N
ext Workshop "UNESCO sites and Greenways, a common destination"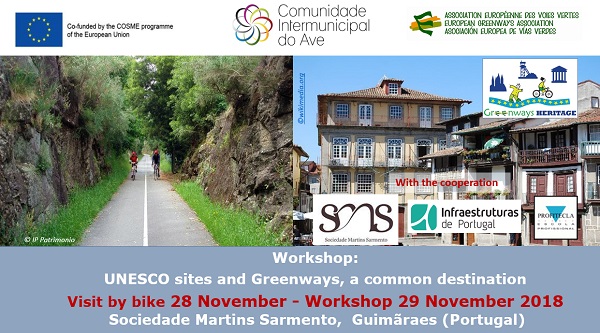 These events are organized in the framework of the Greenways Heritage project, in the city of Guimarães
⇒  Historic centre of Guimarães is World Heritage Site (WHS)
⇒  The Ecopista of Guimarães, as greenways are called in Portugal, is about 14 km long, between Guimarães and Fafe and uses the old railway line of Guimaraes.
Date/Data:  Encontro: Quinta-feira/ Thursday /29  de Noviembre 2018
Venue/Local:   Sociedade Martins Sarmento, Rua Paio Galvão, Guimarães, Portugal.
Language / Idioma: Portuguese / English with simultaneous translation from / to 
Objetivos: 
Dar a conhecer o projeto europeu Greenways HERITAGE (Ecovias e património UNESCO) e as oportunidades de cooperação em Portugal.

Favorecer a participação público-privada na criação de produtos turísticos e iniciativas para o aproveitamento turístico, vinculadas à promoção do património UNESCO e Ecovias na Europa.

Promover a aplicação das novas tecnologias para informar os visitantes e melhorar o conhecimento do património cultural existente no território.

Favorecer o intercambio e a cooperação europeia, no âmbito do projeto Greenways HERITAGE: como os territórios que contam com património UNESCO e "Greenways" podem contribuir para o projeto e como o projeto europeu pode ajudá-los a estar melhor preparados para o turismo e para que o património e em destaque o património UNESCO combinado com Ecovias seja mais e melhor conhecido a nível internacional.

Conhecer mais de perto experiências UNESCO e Ecovias en Portugal e na Europa.

Promover o património UNESCO e as Ecovias Europeias como destino comum.
Dirigido a: autoridades públicas e organizações privadas que desejem promover Ecovias e património para o turismo nos seus territórios. Em particular autoridades de promoção turística, de gestão de sítios culturais com destaque para os classificados pela UNESCO, de gestão de ecopistas e ecovias, agentes locais de serviços (PME's) em torno de ecovias; operadores turísticos e agências de turismo ativo e de natureza; turistas potenciais / usuários finais; associações de âmbito cultural e de atividades de ar livre e meios de comunicação especializados.
______________________________________________________________________________________________________________________
PROGRAMA
10:00 – ABERTURA
CIM do Ave – Maria do Rosário Azevedo | CM Guimarães – Adelina Paula Pinto | EGWA | Helena Teles – Missão Douro UNESCO | Teresa Ferreira – Turismo de Portugal.
11:15– 11:45 Património UNESCO e Ecopistas –  um valor acrescentado para o turismo cultural e de natureza e para o desenvolvimento de industrias culturais e criativas.
11:15  Teresa Ferreira – Turismo de Portugal. Innovación en el marketing del sector del turismo cultural y outdoor.
11:30 – Mercedes Muñoz. AEVV – EGWA El proyecto europeo Greenways Heritage, para la promoción de Patrimonio UNESCO y Vías verdes como destino común.
11:45 – Coffee Break
12: 15 – 13: 00 Ecopistas e Patrimonio UNESCO no projeto Greenways Heritage.
12: 15. Arantxa Hernández. Fundación de los Ferrocarriles Españoles. Vías verdes y Patrimonio UNESCO en España y estructuración de la oferta europea "Greenways Heritage".
12:30 Giulio Senes. Universidade de Milão- O GIS turístico UNESCO e as Ecopistas: Melhor informação para atrair mais visitantes.
12:45 Antonio Martín. Turismo Vivencial. Creando producto turístico atractivo – UNESCO + Vías verdes para el mercado internacional. 
Perguntas e Debate /Preguntas y debate
13:15 – 14:30 Almoço livre
14:45 – 15:15. Ecopistas e itinerários de cicloturismo na planificação territorial e sectorial en Portugal.
14:45 – Filipe Beja, Infraestruturas de Portugal – Património – O Plano Nacional Português de Ecopistas.
15:00 – Fernando Gomes – Comissão de Coordenação e Desenvolvimento da Região Norte.  As Ecopistas e Itinerários de Cicloturismo nos planos da Comissão de Coordenação e Desenvolvimento da Região Norte.
15:15 – 16:15  Boas Práticas em Greenways, Ecopistas, Ecovias, Turismo e Património. Oportunidades para a Cooperação internacional. (10 min / por apresentação)
15: 15 Ecopista Póvoa de Varzim Famalicão – Cartografia Social. Participação inovadora para a manutenção e dinamização da Ecopista Póvoa de Varzim- Vila Nova de Famalicão.
Portugal – CIM da Região de Coimbra (Patrimonio UNESCO, ecovias e ecopistas). Jorge de Brito – Primeiro Secretário Intermunicipal.
Portugal – CIM do Alentejo Central "Património UNESCO e a Grande Rota do Montado – Cristina Carriço – Tecnica Superior
Letonia – Raitis Sijats –Presidente da European Cultural Tourism Network – Greenways and Heritage in Latvia.
16: 15 Perguntas e Debate
16:30 Declaración de UNESCO E Ecopistas (UNESCO and Greenways)  Eng  /  Es  /  Fr  
Note: The GREENWAYS HERITAGE declaration for the promotion of UNESCO sites and greenways as common destinations in Europe. is to be presented at the end of the conference .
It is planned to be signed by those participating in the conference and other entities linked to the project Greenways Heritage; thereafter we are continuing with the dissemination process and are seeking the support of parties interested in backing this Declaration.
17:00 – Final del encontro.
Entrada gratuita, inscrição prévia. Inscreva-se online:  

Idioma: Portuguese / English with simultaneous translation from / to 
Com a colaboração de:  



---
Quarta-Feira/wednesday  28 Novembro 2018 
15:00 – 18:00 Visita técnica de bicileta à Ecopista de Guimarães – Fafe and  e ao centro da cidade.
 Próxima informação 
---
Please stay tuned for upcoming updates!
---
Partners / Parceiros do projeto Greenways Heritage: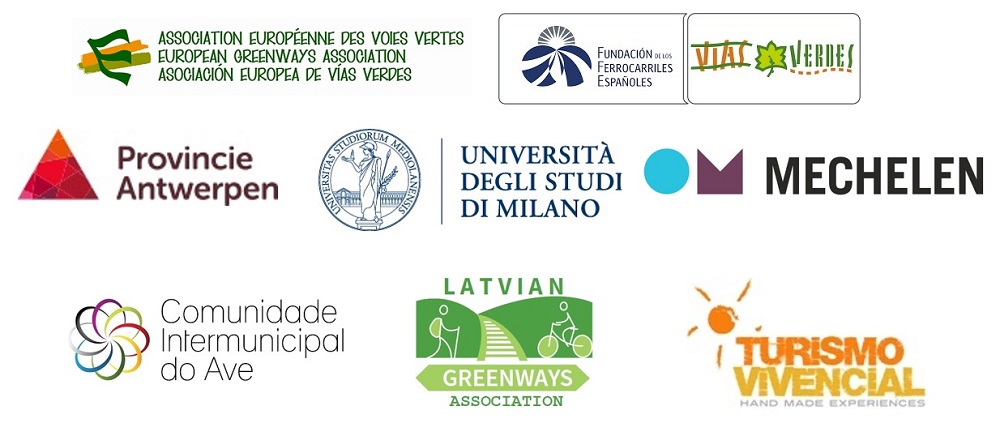 ---


DISCLAIMER: The content of this program represents the views of the author only and is his/her sole responsibility; it cannot be considered to reflect the views of the Executive Agency for Small and Medium-sized Enterprises or any other body of the European Union. The European Commission and the Agency do not accept any responsibility for use that may be made of the information it contains."