The aim of the project is to promote sport and healthy leisure activities outdoors by stimulating sports activities offer in greenways and potential greenways while raising awareness on environmental issues and circular economy. Moreover, SIGWAY aims to enhancing sports field employability and local economies.
>> EGWA will lead the WP 2, that includes the research and mapping, and co-lead the strategy and Guidelines as expert on Greenways and implement all activities of the project. Will increased noticeably the impact and sustainability of the project throughout its network.
SIGWAY partners:
FORMACION PARA EL DESARROLLO E INSERCION, ES (Lead Partner)
 ASSOCIATION EUROPEENNE DES VOIES VERTES AISBL BE  (European Greenways Association)
ZENTRUM FUR INNOVATIVE BILDUNG AT
OTI SLOVAKIA SK
ASSOCIAZIONE SPORTIVA DILETTANTISTICA TREKKIFY IT
ATHENS NETWORK OF COLLABORATING EXPERTS ASTIKI ETAIRIA EL
ASSOCIACAO DESPORTIVA CULTURAL E SOCIAL DE CARVALHAIS PT
Total budget 400.000 €-
30 months. From May 2022- October 2024.
---
The first results of the SIGWAY project are now available!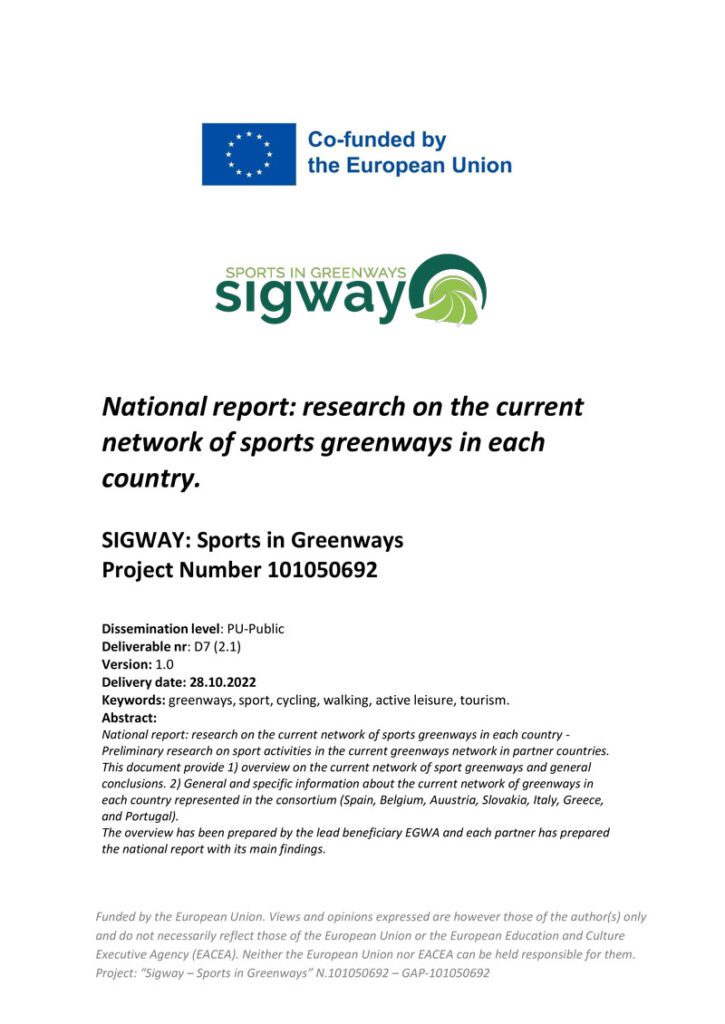 National report on the current network of sport greenways in each country
The objectives of the report are:
To have the general information on the existing greenways in each represented country, and the main characteristics of their development.
To know the specific characteristics that favour the development of outdoor sports and leisure activities in greenways, and what conditions make them successful, through concrete examples.
Offer a global overview of the situation of the greenways and the sports activities that take place in the represented countries.
Identify outstanding examples of greenways, which can serve as a reference for the transformation of disused railway lines into greenways on which to develop sports programmes and active leisure promoting the circular economy, of which the greenways themselves are a good example due to the reuse of disused railway infrastructure for new uses.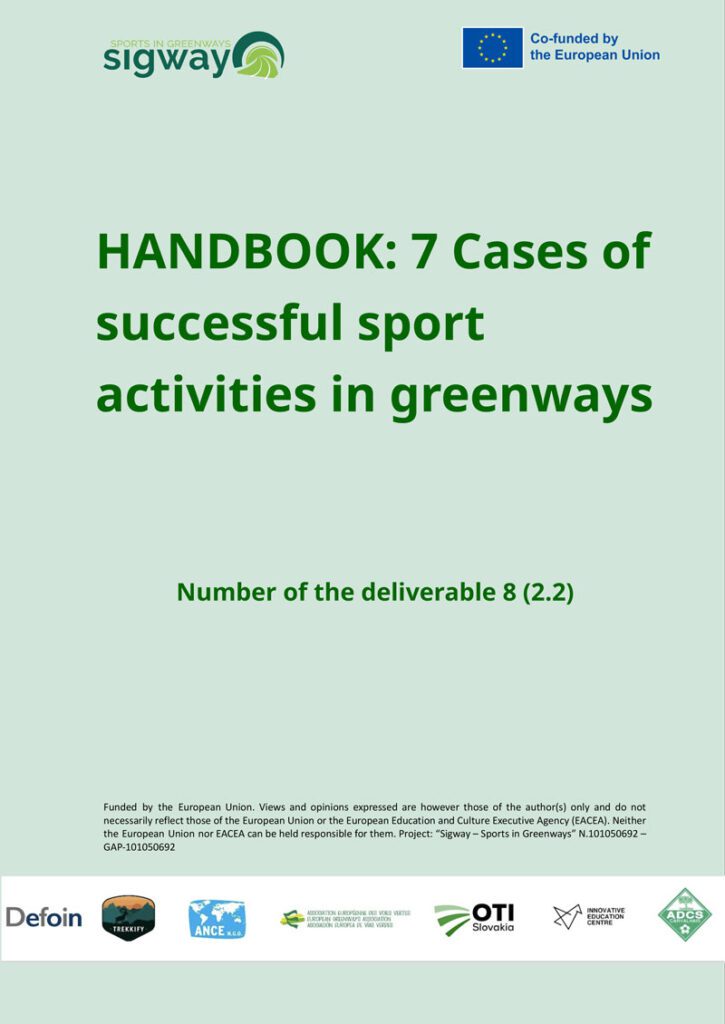 Best Practices of successful sports activities on greenways.
The handbook includes best practices of outdoor sports and leisure activities linked to greenways, in a greater or lesser extent, in Spain, Belgium, Italy, Slovakia, Austria, Italy, Greece and Portugal.
They are very varied activities, open to all kinds of groups, and promoted by different entities, sports, educational, rural development, companies, municipalities and other social, public and private groups, which can serve as inspiration to be performed in other places and promote sport and active leisure activities on greenways and other non-motorised itineraries. The proposed activities are free of charge or at a very low cost, which encourages participation in group activities, which in turn has a very positive impact on the people who take part and on the communities.
We hope that they can also be useful to raise awareness and visibility of the circular economy through the use of old railway infrastructures, into a new purpose, like greenways.
The SIGWAY project focuses on greenways of railway origin due to the reuse of old railway infrastructures as an example of new uses and circular economy.
  Further info: www.sigway.eu
---
Launch of the European project SIGWAY, Sport in Greenways. >> Info
The kick-off- meeting of the SIGWAY, was held in Madrid on 6-7 June 2022.
The meetings were combined with a visit by bike to the Tajuña greenway.