Greenways Heritage & European Greenways Award in Latvia

The final Conference of the Greenways Heritage EU co-funded Cosme project and the gala Dinner of the 9th European Greenways Award will be held on 5 September 2019, in Vidzeme region in Latvia.
Overwiew of the program:
Thursday 5th September 2019
9:00 – 12:00 Project partners meeting – Greenways Heritage
---
13:00 – 18:00 Final Conference Greenways Heritage "Enhancing Heritage and Innovation: shaping the future of greenways" (open)
The conference will feature:
Main outputs of the Greenways Heritage project. With special focus on key messages and tools to put in value greenways and cultural heritage nearby:

Integrating cultural heritage into itineraries to create more attractive routes.

Using technological tools for informing and enrich the experience of tourist about Greenways and cultural and natural heritage.

Promoting and selling greenways and UNESCO as common destinations

Governance to manage and promote greenways and heritage nearby.
How to finance greenways integrating the natural and cultural assets nearby?
Best practices to set up, manage and promote greenways and heritage in Europe, based on useful examples.
Program of the Conference                
13:00 – 13:30  Registration / Coffee

13:30 – 13:50 Opening. Koceni municipality Evija Nagle and Giulio Senes, President of the EGWA.

13:50 – 15:15 Main outputs of the Greenways Heritage project. Presented by team partners of the project from Belgium, Spain, Italy, Latvia and Portugal
Mercedes Muñoz. EGWA director and coordinator of Greenways Heritage.- European Scope
Arantxa Hernández. Spanish Railway Foundation. (Spain).
Giulio Senes and Roberto Rovelli. Milan University (Italy)
Kris Rockele and Els Van Zele Antwerp Province and Mechelen City (Belgium)
Alise Plaude. Latvian Greenways Association. (Latvia)
Paulo Pinto. CIM AVE (Portugal)
15:15 – 15:45 Coffee & networking
15:45 – 16:30 Enhancing the value of railway heritage through greenways
The RAVel in Walloon region. Isabell Dullaert.  Walloon Region. (Belgium).
Greenways development in Estonia/Latvia Green Railways project. Sille Talvet-Unt (Estonia)/ Jānis Sijāts (Latvia)
Which old railway lines would be develop in Estonia and Latvia next? Further Greenways development in Latvia/Russia project Greenways Riga-Pskov. Raitis Sijats Vidzeme Tourism Association.(Latvia)
16:30 – 17:00 Promoting public-private cooperation to assure the success of the greenways:
Involving local farmers and local society. Koceni municipality & Latvia state forestery example. Evija Nagle, Toms Treimanis & Vilmars Katkovskis. (Latvia).
Public – Private Cooperation in a cross-border long distance cycle route (Elbe Radweg). Daniel Mourek. Environmental Partnertnership Association (EPA)(Czechia).
17:00 – 17:40 Promoting greenways and the natural and cultural assets nearby 
Latvian trends developing hiking and cycling trails in Greenways. Inese Šīrava. Director of Tourism Department, Investment and Development Agency of Latvia.
New APP to promote Spanish greenways. Arantxa Hernández Colorado. Spanish Railways Foundation. 
Greenways further development in Limbazi and Latvia Leader program development. Ilze Millere / Jānis Sijāts (Latvia).
17:40 – 18:00

Round table – Discussion together with the greenways experts from all over Europe. Moderator Mercedes Muñoz . EGWA director. Closing remarks.
Signature of the Guimarães Declaration for the promotion of  UNESCO sites and greenways as common destinations in Europe.
---
19:00  European Greenways Award 2019 – Gala Dinner and Awards Ceremony, including special Greenways Heritage Award (Co-funded by COSME program).


Friday 6th September 2019
8:00- 8:45 Breakfast
9 00 – Participants left luggage in bus. Luggage will be collected and store in bus. Bus will follow all time.
9:20   Study tour (guided) from Diklu Palace with 5 short stops  
12:00 EGWA Bridge opening, coffee break
13:00 Departure by bus to Hansa city Limbazi
13:30 Limbazi GW by bike (9 km) hike 4 km with guide, by buss to Limbazi city.
14:40 – 15:30 Lunch in Limbazi
15:30 – 17:00 Guided tour in Limbazi
17:00  Departure to Riga (by organizers bus)
19:00  Arriving in Riga
Saturday 7th September 2019
Optional tour Gulbene- Aluksne Banitis festivals.
---
---
Dikļi Palace It is one of the most historic and beautiful palaces in Latvia. It is located about 20 km away from Valmiera city, very close from the new greenways network GreenRailway. 
Special prices of the hotel: Economy class room with breakfast 52 € and 60 €
Dikļu pils / Dikli Palace Hotel    –   Tel.: +371 64207480   /   email :pils@diklupils.lv 
To mention in the reservation: EGWA AWARD
How to arrive?
A transfer from the Riga airport – to Dikli parish can be organize on Wednesday 4th September at 12:00
Regular Public Bus from Riga central station in every hour from 6:20 am last 10:50 pm. Estimate time 2 hours. 

Public train

from Riga-Valmiera. 4 times in a day. Estimate time 2 hours.

Regular Public Bus from Valmiera Bus station to Dikli parish (approx. 20 km) in every second hour from 6:05 am last 6:50 pm. Estimate time 35 min. Taxis are also available.
In order you can organize your trip ASAP, please take account of the general program and estimated time for travelling.
⇒  Free participation, but places are limited, prior registration required.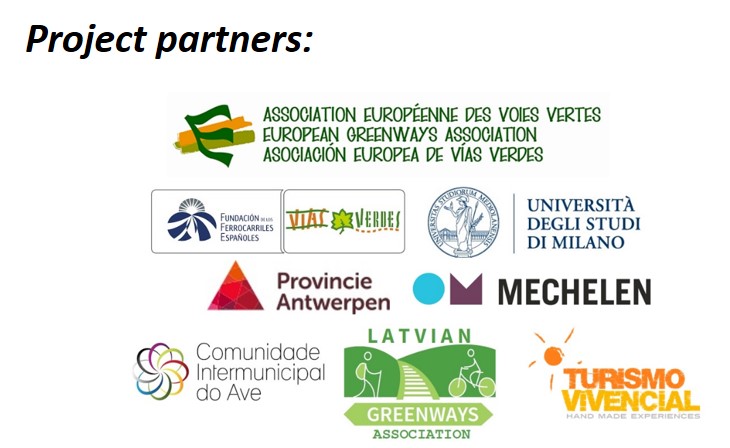 Disclaimer: The content of this event represents the views of the author only and is his/her sole responsibility; it cannot be considered to reflect the views of the Executive Agency for Small and Medium-sized Enterprises or any other body of the European Union. The European Commission and the Agency do not accept any responsibility for use that may be made of the information it contains.