Greenways Heritage next open activities in Flandres & Wallonie (Belgium)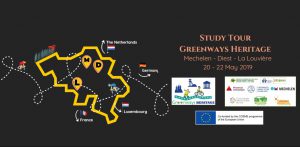 10 -12: Workshop Greenways Heritage about cycle tourism and cultural heritage: innovation through the use of new technology
Press conference.
Venue: Museum Hof van Busleyden – Mechelen:
Visit by bike (*) along greenways from Averbode to UNESCO Beguinage of Diest in the afternoon.
(*) Previous confirmation required. Reservation until 15 May: Kris.ROCKELE[at]provincieantwerpen.be
15: 00: Workshop "Greenways and UNESCO heritage in Wallonia"
Venue : boat lift nr 3 on the Historical "Canal du Centre
⇒ Confirmation of attendance by e.mail:  direction[at]aevv-egwa.org
⇒ Language: English
Please keep tuned for updates!
Programs and Practical details will follow shortly
#GreenwaysHeritage