The European Commision, Directorate-General for Internal Market, Industry, Entrepreneurship & SMEs organised a stakeholder event on 13 September to update on the transition pathway related developments and received pledges.
The objective was to increase and support engagement in the transition pathway co-implementation with concrete actions.
The event was organized in hybrid format, physically in Brussels and the online participation
All the presentations of the event are available online at the event web page: EU Tourism transition pathway stakeholder meeting (europa.eu)
Presentations
Source European Commision – DIRECTORATE-GENERAL FOR INTERNAL MARKET, INDUSTRY, ENTREPRENEURSHIP AND SMES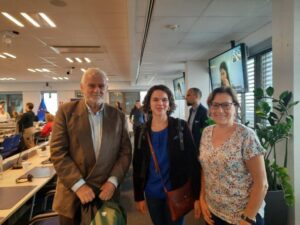 We take part in the stakeholder event in Brussels.
EGWA is one of the organisations committed to concrete pledges linked to greenways, mainly oriented towards awareness raising and promotion of the greentransition.
Regarding sustainable mobility, we recall the need to promote safe and accessible infrastructure for cycling & walking, such as greenways, suitable for both visitors & locals.
Many thanks to the #EUGrowth Internal Market, Industry, Entrepreneurship & SMEs for the organisation of the event and the whole process of co-creation open to stakeholders, leading to co-implementation!
Moving on! #GreenwaysEurope #Together4Tourism
Mercedes Muñoz Zamora
European Greenways Association, Director
14/September/2022