Jury meeting of the 11th European Greenways Award 2023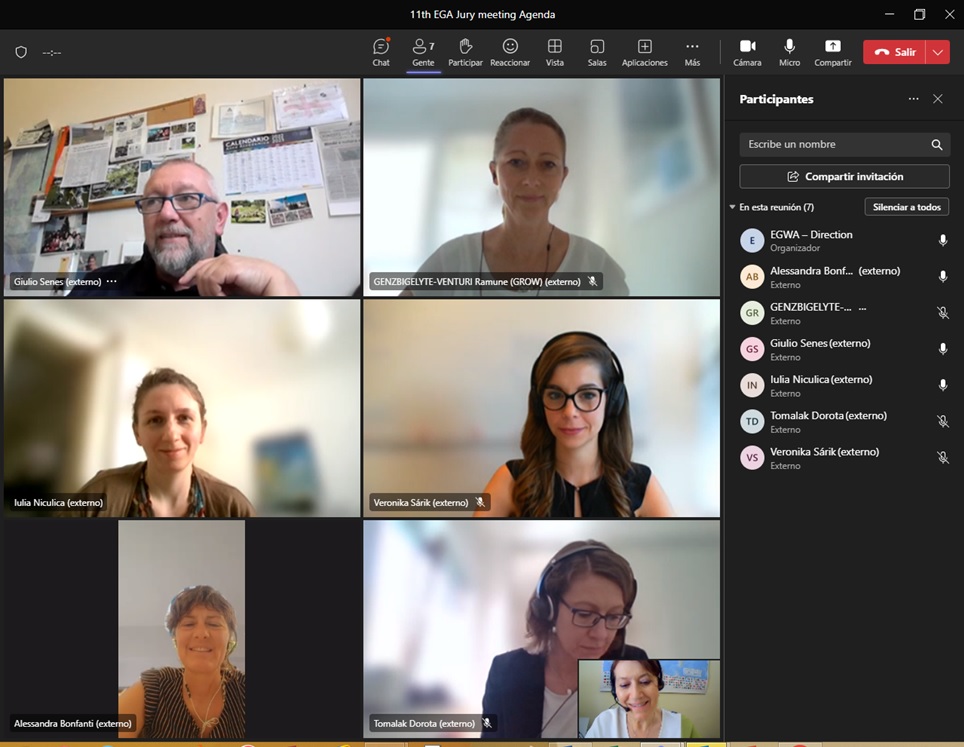 The jury of the 11th European Greenways Award was composed of a panel of experts with different expertise to approach, from different perspectives, the analysis of the 24 excellent shortlisted applications from 11 different countries:
Ms. Ramune Genzbigelyte-Venturi. Policy officer-Tourism. European Commission. DG Internal Market, Industry, Entrepreneurship and SMEs. Unit GROW G1 – Tourism and Textiles
Ms. Dorota Tomalak. Deputy Head of Unit. Secretariat of the Commission for Natural Resources. European Committee of the Regions
Ms. Veronika Sárik. Technical Manager – EIM – European Rail Infrastructure Managers
Ms. Iulia Niculica. Head of Administration. European Travel Commission
Ms.  Alessandra Bonfanti. Legambiente. National Responsible for Mobility
Mr Giulio Senes – President EGWA. (1) Italy/ EGWA , and
Ms. Mercedes Muñoz, Jury Secretary  – EGWA Director (1) Vote, in case of a tie vote / (2) With voice but without vote.
>> The winners will be announced in Rome on Thursday, September 21st 2023
The awards contribute to the promotion of best practices in greenways, to encourage the qualitative development of these new facilities open to the general public in Europe, that are "Communication routes reserved exclusively for non-motorised journeys. These routes should meet satisfactory standards of width, gradient, and surface condition to ensure that they are both user-friendly and low-risk for users of all abilities. In this respect, canal towpaths and disused railway lines are a highly suitable resource for the development of greenways" (Lille Declaration, 2000).  Greenways are known with different names depending on the country: Voies Vertes, Vias Verdes, RAVEL, Ecopistas, Radwege auf alten Bahntrassen, railtrails.
We sincerely thank all the highly qualified members of the international jury for their valuable participation to the selection of the winning candidatures.
We also sincerely thank all participants for responding to the call for applications: we received 32 applications from 12 countries, the highest number of entries received so far, including new participating countries.
We are very grateful to the Rete Ferroviaria Italiana as manager of the railway infrastructure, very actively engaged in enhancing the conversion of disused railway lines into greenways, and promoting intermodality Bike & train , a full member of EGWA, and the Associazione Italiana Greenways, the reference organisation of greenways promotion in Italy.
And of course and always to all the members of the EGWA , without whose continuous support it would not be possible to organise these recognised awards.
Many thanks to all of you for making the European Greenways Award possible!
 We are very excited to celebrate this biannual festival of recognition of the best European Greenways in the magnificent Rome, which has a huge value in European identity because of our Roman past, and our hosts RFI are doing their utmost to make it an unforgettable celebration.
In addition to the awards ceremony of the 11th European Greenways Award, there will be an International Conference on Greenways and Sustainable Tourism, the same day 21st September, followed by a technical visit to a greenway in the Metropolitan City of Rome, this one, on Friday 22 September.