=> See the special Newsletter 11 European Greenways Award Rome 2023 >> Here
=> See all event of the 11th EGA in Pictures >> Here
 => Dowload the presentations  of the International Conference Greenways and Sustainable Tourism >> Here 
=> Overview of the Conference >> Here
---
11th European Greenways Award 2023 – Rome, Italy 21-22 September.

We are very pleased to announce the new date of the European Greenways Award!!
20/November/2023
We very much look forward to welcoming you in Rome!
Venue: Sala della Protomoteca. Piazza del Campidoglio, 1 – Roma (Italy)
The international conference is organized on the occasion of the 11th European Greenways Award 2022 Award giving ceremony, that will be held on Monday 20 November in Roma. It is jointly organized by the European Greenways Association Rete Ferroviaria Italiana and the Associazione Italiana Greenways. with the patronage of Roma Capitale.
>> See Program here
>> Participation is Free Prior Registration required
>> Registration is now re-open!! >> ENGLISH / ITALIAN
---
Jury meeting of the 11th European Greenways Award 2023, Wednesday 12/July

=> The winners2023 will be announced in Rome on

20 November

2023
---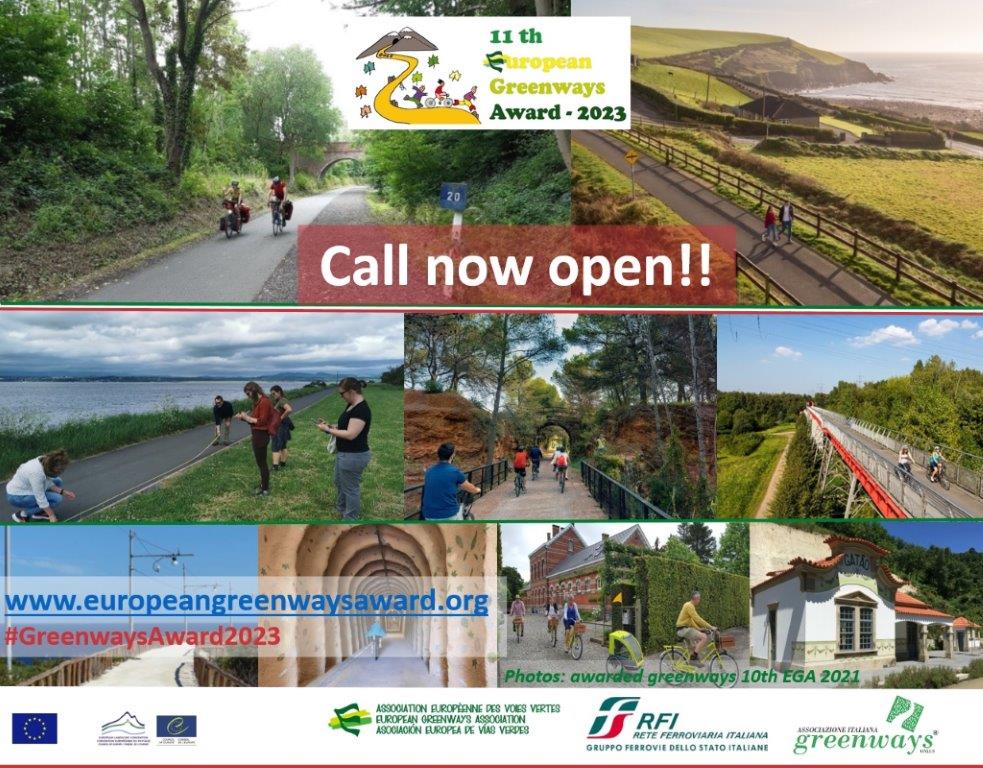 >> !! New Deadline/

Nouveau délai

/

Nuevo plazo/

Wednesday 21st June 2023 / Mercredi 21 June 2023/ Miércoles 21 June 2023
---
The awards ceremony will take place on September 21st in Rome, Italy.
The objective is to promote examples of best practices and to support their replication on other greenways all over Europe. The European Greenways Award will only be granted to greenways under the Lille Declaration, as well as to initiatives already in existence.
This biennial award will recognise examples of greenways best practices in three categories:
A) Excellence awards
In this category the 1st, 2nd and 3rd prizes will be awarded to three exemplary greenways that show the best integration of the various characteristics which define greenways (Art. 1 of Regulations) and that also demonstrate specific strengths which, in the opinion of the jury, make them exemplary. (…)
B) Exemplary initiatives
A 1st, 2nd and 3rd prize will be awarded to exemplary initiatives carried out in relation to greenways. This category is open to any activity related to greenways in its broadest sense: (…)
C) Special award, Green transition in greenways
A single award will be granted to reward actions that contribute to green transition in the greenways ecosystem, and contribute to achieve the Sustainable Development Goals (SDGs). Initiatives will be related to the greenway itself, or to greenway-based tourism services or products that integrate sustainability criteria, and aimed at either one or more of these trails.
The Special award will be addressed only to greenways using disused railways, as a special form of circular economy.
This special award is part of the activities promoted by EGWA in the co-implementation of the Transition Pathway for Tourism, to recognise initiatives addressing green transition challenges in the greenways ecosystem, and to showcase how the green transition happens on the ground.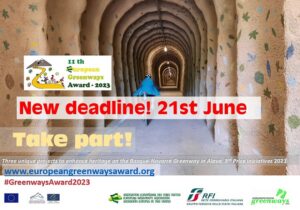 Deadline for the submission of candidacies:

NEW Deadline Wednesday 21 June 2023

at the latest.
The awards ceremony will be held on Thursday, September 21st 2023 in Rome (Italy)
Download ⇓⇓⇓⇓⇓⇓:
Application forms:
>> Special award, Green transition in greenways
Updated info : europeangreenwaysaward.org
In addition to the 11th European Greenways Award, there will be an

International Conference on Greenways and Sustainable Tourism

, followed by a

technical visit to a greenway in the Metropolitan City of Rome,

this one, on Friday 22 September.
We highly encourage you to participate!! Help us to spread the word about the call!

---
---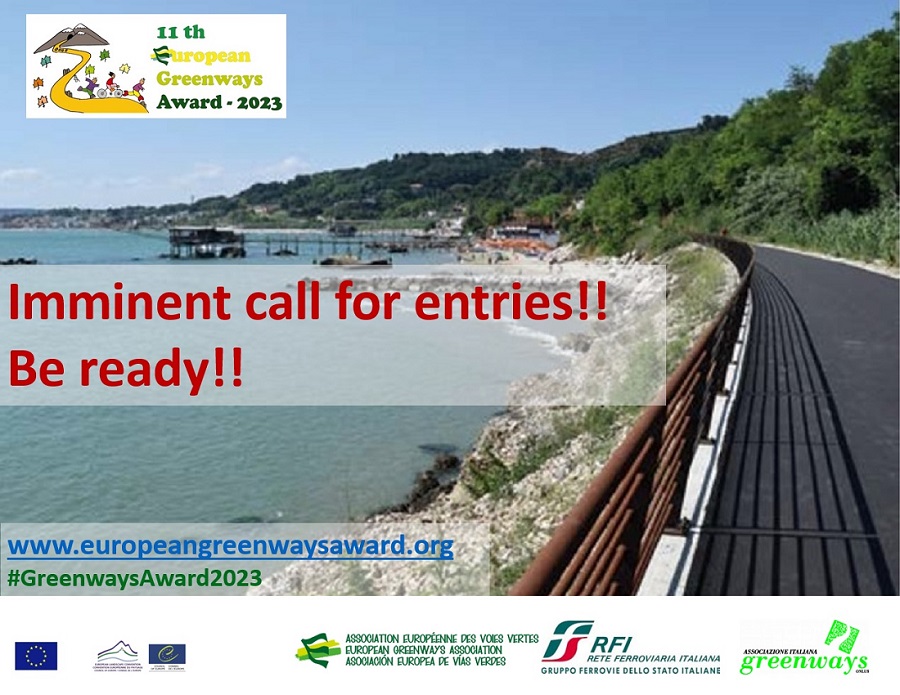 Call for candidacies inminent! Please stay tuned!