Recent meeting in Brussels of the jury of the 8th European Greenways Award
The jury of the 8th European Greenways Award was made up of experts whose professional background allowed them to approach the assessment of the excellent candidates from Austria, Belgium, Serbia, Czech Republic, Spain, and Portugal from a wide range of perspectives.
Iulia Niculica. Operations and Administration Manager, European Travel Commission (ETC).
Tommaso Spanevello. Legal manager of EIM aisbl (European Rail Infrastructure Managers).
Sarah Holden – Irish Regions Brussels Office. Coordinator for the Irish delegation to the Committee of the Regions.
Alessandra Bonfanti. Legambiente – Responsible for soft mobility.
Giulio Senes – President EGWA. (Vote, in case of a tie vote)
Jury was assisted technically by the EGWA representatives (with voice but without vote) Ms. Arantxa Hernández, General Secretary, M. Gilbert Perrin, Member of the Executive Committee and past President and Ms. Mercedes Muñoz, Director and Jury Secretary.
As laid down in the award regulations, the jury set out to make 3 awards for the categories Excellence, Exemplary Initiatives, and a special award from the jury to recognize a particularly admirable greenway.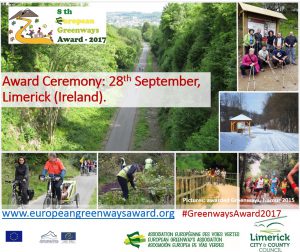 The winners will be announced in Limerick (Ireland) on Thursday September 28, 2017
The 8th European Greenways Award has been organized by the European Greenways Association (EGWA) in cooperation with the Limerick City and County Council
The award contributes to the promotion of best practices in greenways and to encourage the qualitative development of these new facilities open to the general public in Europe, that are "Communication routes reserved exclusively for non-motorised journeys. These routes should meet satisfactory standards of width, gradient, and surface condition to ensure that they are both user-friendly and low-risk for users of all abilities. In this respect, canal towpaths and disused railway lines are a highly suitable resource for the development of greenways.  Greenways are known with different names depending on the country: Voies Vertes, Vias Verdes, RAVEL, Ecopistas, Radwege auf alten Bahntrassen, railtrails.
The organization wishes to thank all the fantastic candidates for the quality of their work and the efforts they made to provide the jury with some very helpful information.