"Greenways Outdoor"
Creation and transnational promotion of outdoor tourism product linked to European Greenways
Kick off meeting 2-3 July  2015
Objectives:
Introduce the partners
Detail the objectives and work plan
Detail the Contractual, financial and implementation issues
Networking & cooperation
To know on the field the experience of an concrete greenway (infrastructure and SMS companies that base its activity in the greenway) + (Accommodation / lunch and dinner in SMS enterprises linked and located in the greenways)
Agenda:
Day 1 – Thursday 2 July 2015
17:00 Getting together.
19:00 Leaving from the Hacienda Minerva hotel (by car)
19:20 Welcomed of the Mayor of Doña Mencía at the Subbetica CycletourismCentre; visit to the micro enterprise specialized in tourism on greenways (Partner project – Subbetica Bikefriends).
20:00 Technical visit to Subbetica Greenway by bike (possible by card depending on the weather)
21: 30 Arrival at Hacienda Minerva hotel – (by car, possible by bike)
22: 00: Leaving for dinner at hotel Mencía Subbetica
23:15: End of the dinner and back to the hotel (Hacienda Minerva) (by food or bike)
Day 2 – Friday 3 July 2015:
9.00 – Welcome Message and Round of Introductions [EGWA / All]
9.30 – Basic Project Outline: Objectives and Targets [EGWA]
9.45 – Activities & Tasks

o    Work Package 2 Diversify Tourism Offer [Lead partner: FFE  + Pangea / Diversport'] [10+ 5']

o    Work Package  3 Better information & marketing [Lead partner Tourismusagentur Ostbelgien + EGWA] [10+5]

o    Work Package 4 Promotion & communication. [Lead Partner: EGWA / all partners] [8 + 7]
10.15- Questions & Discussions [ALL]
10:45 Subbetica Greenways – presentation
11.00 – Coffee Break  + Greenways Outdoor presentation for Press, local authorities and SMS'
11.15 – Work Package 1 [EGWA]

o     Management Tasks and Tools (WP1)

o     Milestones and Deliverables

o     Duration and Action Plan
11.30 – Questions & Discussions [ALL]
12.00 – Contractual, financial and implementation issues [EGWA]

o     Financial aspects of the grant implementation

o     Operational aspects of  the grant implementation
12.30– Questions [ALL]
13:00- Summary: Agreements and Next Steps [EGWA / ALL]

o     Questions, discussions, specifications

o     Round of Feedback
13.30- End of the meeting / Photo session [ALL]
14:00 Networking & Lunch
16:00 End of the kick-off-meeting
Participants: representative of all partners:
ASSOCIATION EUROPEENNE DES VOIES VERTES AISBL-EUROPEAN GREENWAYS ASOCIACION (EGWA) (Belgium -European Scope)  Lead Partner/Coordinator:
FUNDACIÓN FERROCARRILES ESPAÑOLES (Spain),
VIDZEMES TURISMA ASOCIACIJA (Latvia),
PANGEA EDUCACION Y DEPORTE EN LA NATURALEZA SL (Spain),
COMUNIDADE INTERMUNICIPAL VISEU DAO LAFOES (Portugal),
GRUPPO DI AZIONE LOCALE POLESINE DELTA DEL PO – ROVIGO (Italy),
FUNDACION VIA VERDE DE LA SIERRA (Spain),
TOURISMUSAGENTUR OSTBELGIEN (Belgium),
DIVERSPORT EMPRESA DE SERVEIS ESPORTIUS SC (Spain),
SERVICIOS DEPORTIVOS, CULTURALES Y DE ANIMACION DXOCIO SL (Spain).
Venue:
Doña Mencía (Cordoba) – at Hacienda Minerva  . (In Subbética Greenway) (Andalucía), where it is located one of our partner subbeticabike's friends,)
Doña Mencía is located at aprox. 70 km away from Cordoba; 125 Km from Malaga (international airport: possible transport by taxi -aprox. 135 Euros one way);  Granada (aprox. 100 KM).  From Madrid: high speed train to Cordoba (1:45 – 2 hours ) + Doña Mencía aprox 65 km) by car (possible to arrange a taxi). Please let me know the details of your trip when possible.
Click on the image for more information about:
THE TECHNICAL VISIT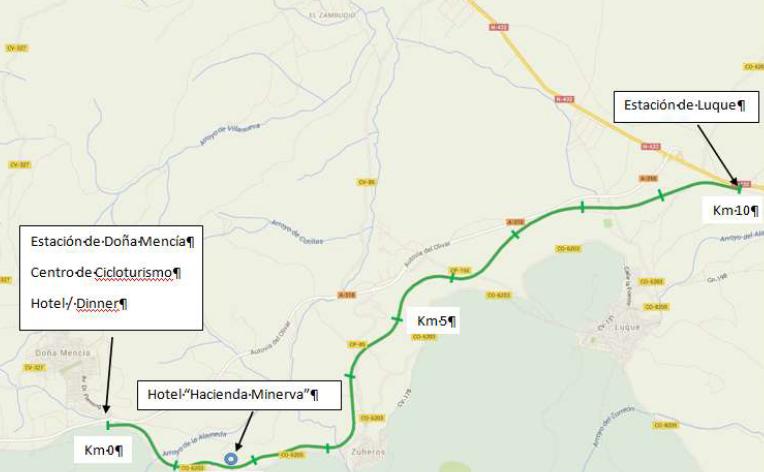 and
THE PRESENTATION OF THE GREENWAYS OUTDOOR PROJECT!!!